So on Friday I was browsing through through the blogs and I stumbled across the
Altered Composition notebook blog hop
. Those ladies did such an amazing job and inspired me to give it a go. I was going to do a more traditional scrapbook for Miss A. I wanted to give her something to remember her Summer Day camp by since it will be ending in two weeks. This notebook will be perfect!!
Here are the photos: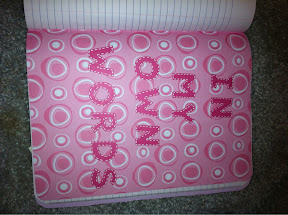 So I decided to add some dividers to help prompt her to write. On the first few pages of each section, I've written in prompts like "The best movie I saw was..." I hope she likes it. I think I might make some a bit more grown up and list on my Etsy shop. I've been neglecting my shop. :-(
Well it's time for True Blood, stay crafty!!
- Posted using BlogPress from my iPhone