This project will be entered in the the following challenge:
Shopping Our Stash
#14 - Red, roses, ribbon
I've had this paper forever and I'm so glad that I could use it.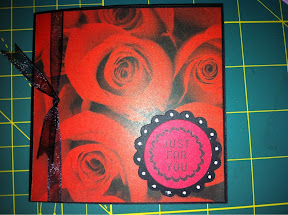 Details:
Card base - 4x4 inches black cardstock
Rose mat - 3 7/8 x 3 7/8 inches
Scallop circle and circle - 2 inches
My thoughts were this could be used as a notecard.
Just watched the weather report, things are going to start really degrading here. Praying for my friends and family in Virginia Beach and along the Eastern Shore of Va and Md, they are directly in the path of the eye of this hurricane.
- Posted using BlogPress from my iPhone