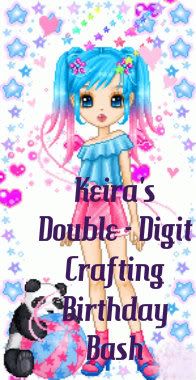 Welcome To Keira's Double-Digit Birthday Crafting Bash!
Oh, the dilemma of it all, what to get a talented gal such as Keira who is going to be 10 for her birthday!!!!! I know what, let's have a blog hop for her .....
Keira has sooo many talents and likes such as:
she will be going in the 5th grade, loves dogs and cats, loves to garden, is a competitive gymnast, but more importantly, she is the best crafting partner Lisa Woodward could have! At 9, she can use a cricut independently, and with SCAL and CCR. She likes to paper piece and scrapbook and loves making cards for everyone~and everything!!!! Hallmark may not have a card for "Sorry my Golden Retriever ate your shoe at my sleepover" but Keira sure does! Keira crafts along side Lisa, working on her own projects, and with helping Lisa with hers. Now, bear in mind that Keira is not a "kid" crafter so to speak but her skills go way beyond pipe cleaners and pom poms!
We have a talented group of crafters to help Keira celebrate her birthday and know she will be hopping along as part of her "surprise" .....
Our complete line-up is:
Day 1
1. Lisa W.~
http://mycraftyspaces.blogspot.com
2. Kimberly ~
http://scrappingrookie.blogspot.com
3. Lynne ~
http://slasewcraftiness.blogspot.com/
4. Miriam -
http://miriamscreations.blogspot.com
5. Christine ~
http://customcreativeexpressions.blogspot.com/
6. Rachelle~
http://creationsbyrachelle.blogspot.com
7. Daisy-
http://tsunamirosedesigns.blogspot.com
8. Shawnee ~
http://quiverofangels.blogspot.com
9. Jenny~
http://cccjalessi.blogspot.com
.
Day 2
10. Lisa ~
http://handmadewithlove-lisa.blogspot.com/
11. Edwina ~
http://edwinascreations.blogspot.com/
12. Kristy -
http://scraptasticalkreations.blogspot.com
13. Maria -
http://JoyfulStamper.blogspot.com
14. Jamie ~
http://craftygirl21.blogspot.com/
15.Lori ~
http://www.scrappinmystressaway.blogspot.com/
16. Sarah -
http://simplyshaddock.blogspot.com
17. Natasha -
http://craftingwithnatasha.blogspot.com/
20. Theresa
http://scrappinginheels.blogspot.com/
If you're just visiting me today, I'm thrilled but wouldn't want you to miss a single birthday wish to this special 10 year old!!!! The hop begins with Lisa. If you have arrived from
Sarah
then you are most definitely following the cake crumbs and the birthday banners and streamers!!!
I decided to do a simple card to go along with some unused supplies from my stash. A girl has got to have her stash, right? We were told that one of Keira's favorite colors is pink. I had gotten the animal print paper at Micheal's a few months ago and hadn't to use it, so I knew exactly what I wanted to do. I decided to do one of those stand-up cards. I've been meaning to try my hand at one, so why not. Here's the final product. Sorry about the dark photos, I've relocated up to my dining room and the lighting is horrible!
Flat front
Standing Front
Standing Side
I used Elegant Edges for the sentiment background (my new play thing) and Don Juan for the "10". Simple, easy, and FAB-U-LOUS!!
Time to cut the cake..WAIT..this is a blog hop party, there's no cake..there's CANDY! We have some awesome sponsors for this blog hop who are offering some great prizes!
have as an awesome sponsor Scrapping with Lisa Designs (
http://scrappingwithlisadesigns.com
)! Lisa Peters has donated $20 worth of her original files as a prize for another lucky winner! To be eligible for this prize, please follow and comment on each blog in our hop and also follow Scrapping with Lisa Designs Design Team blog page at
http://scrappingwithlisadesignsdt.blogspot.com/
, and "Like" the Scrapping with Lisa's Designs Fan Page so you get updates and inspiration for Lisa's great files.
http://www.scraptasticalkreations.com/
. To be eligible for this prize drawing, please like Scraptasitical Kreations' Fan Page on Facebook, and become a follower of her blog at
http://scraptasticalkreations.blogspot.com
and comment on each blog posting in our hop.
The amazingly talented Daisy Collins of "I Love Sketches by Tsunami Rose" has donated a $10 gift certificate to her store (
http://www.zibbet.com/tsunamirose
) and a copy of "I Love Sketches By Tsunami Rose" sketches from the month of July! In addition to leaving blog love for all of our participants and following their blogs, please follow
http://tsunamirosedesigns.blogspot.com
for updates and inspiration for Daisy's sketches and visit and like her fan page at
https://www.facebook.com/groups/106370486155916/
.
The creatively diverse Christine Jones of Custom Creative Expressions (
http://www.customcreativeexpressions.com/Shop-Online.html
) will be creating a personalized tumbler for another lucky winner! Perfect for a gift, or those crafting happy hours! To qualify for this great prize, please leave comments and follow our participating bloggers!
After a long afternoon of crafting, deadline rushes for orders and posts, what would be better than a prize package from SimplySilverton-a soap and paperworks company? This prize pack will include 2-4oz. handmade luxury soap, a 5 oz. body souffle', 8 oz of scented massage oil, and a pound of bath salt soak. To be eligible, please show your blog love to our participants by leaving comments and following their blogs, and also visiting and liking their page at
https://www.facebook.com/pages/SimplySilverton-a-soap-and-paperworks-company-llc/218576901486847
.
And…..
Our Blog Hostess, Lisa Woodward would like to say "Thank You" for celebrating this wonderful event with us!. She is offering one lucky winner a $50 prize pack of crafting supplies, embellishments, goodies and bling. In order to be eligible for this prize, please follow and comment on each blog post in our hop.
(All winners will be chosen from eligible entries at random. Lisa will post the winners NLT Sunday, July 22nd, 12 midnight, EST. All entries through Saturday at midnight will be considered eligible.)
Well, we hope you enjoyed the birthday wishes we have prepared and now that you won't want to miss
Theresa
as she too wishes Keira a wonderful double digit birthday!!! While you are at it, swing by
Daisy
's blog and catch up with her post from yesterday. You can just imagine how thrilled she is as she is grinning "ear-to-ear" with all of her birthday wishes!
If you too would like to send a special card or crafting wish the address to mail to is:
Keira Woodward
3448 Valley Creek Drive
Tallahassee, FL 32312
Stay Crafty!!