So I've been seeing them everywhere, all over Pinterest, Etsy, the blogiverse, etc. The diaper cake. I hate given gifts that never get used or returned, so this was the perfect option. I picked up a pack of newborn diapers ($10), 2 packs of washcloths ($2), some travel sized baby powder and lotion ($4), and a set of binkies ($3).
I rolled each diaper and secured them with a small rubber hairband. Then started making the bottom layer. Once I felt I had it big enough I secured the whole layer with a piece of yarn. Next time I will use a BIG rubber band!! I did this for the next two layers too. In between the layers I placed white tulle.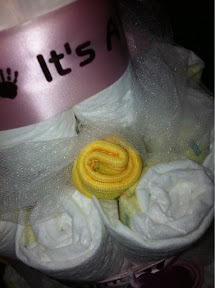 I rolled each washcloth to look like roses and secured them with rubber bands, then stuffed them around the two top layers.
I tied the binkies around the ribbon. For the topper I used my New Arrivals cartridge and cut the stork at 5 inches twice, flipping one layer. I then cut the baby at 2.25 inches.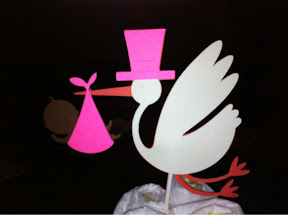 Well what do you think? It's not a complete failure, but there is room for improvement.
Well I'm off to try on my holiday party dress and make sure it still fits, LOL.
Stay crafty
- Posted using BlogPress from my iPhone