Good Morning Bloggers,
This week's challenge over at
Amber's Crafts and Stuff
is "Your Favorite Things". As I've mentioned before, my favorite color is green. I'm guessing you figured that out from the design of my blog. To me it represents nature and calmness. I'm a very earthy, natural person. My sun sign is also an earth sign.
My other favorite thing is green tea. I love, LOVE, love green tea. My favorite is made by Turkey Hill. Mmmmm.
While shopping at Michael's recently, I stumbled upon a DCWV stack called The Green Tea Stack. I had to buy it!! It just had me written all over it. I'm giving one away when I reach 200 followers, click
here
for details to enter the drawing.
Here's my project: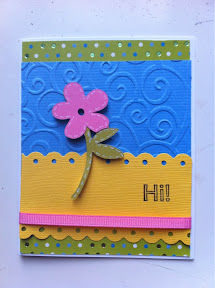 Details:
- Card is 4 by 5 inches
- The green polka dot paper is from the stack and is cut at 3 7/8 by 4 and 7/8.
- The blue mat is 3 7/8 by 3 and has been embossed using the Divine Swirls cuttlebug folder
- The yellow mat is 3 7/8 by 2 1/2 and both edges have been punched using my Fiskar's punch
- I cut the flower at 2 1/2 using my new April Showers cartridge
I will be entering this card into the
FCCB weekly challenge
. Thanks for stopping by.
Stay Crafty
- Posted using BlogPress from my iPhone