Happy Sunday,
My weekend has been rather crazy. Yesterday was a blur of eye doctor appointments, trip to Michael's, Barnes & Noble, coldstone, etc. When I finally got home, I sat down to work on this keepsake box.
It's been ages since I've done anything other than paper crafts. I picked up a wooden photo box and some flowers from M. The lady I'm making this for loves butterflies and I knew I had the perfect paper to decoupage to the top. I painted the inside white and the outside a deep purple. From start to finish, this project took 3 hours. Thankfully the paint I used dries rather quickly, so I was able to get the 5 coats of paint.
Here's the top: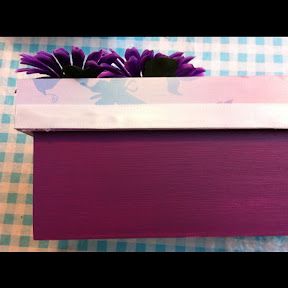 I cut "mom" from Don Juan at 2 1/4 inches. I even got to pull out my hot glue gun!! Hope you like this project.
Stay crafty
- Posted using BlogPress from my iPhone