I'm back with my second post of the day. Told you I was going to get a lot of things done today. So while I'm waiting on the Mod Podge to dry on another project, I'll share another card with you.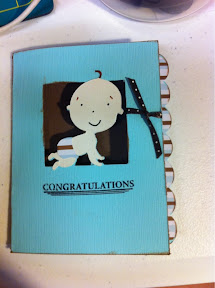 Details:
I used the Card 2 feature on the new arrivals cartridge. This gives you a window card with a scalloped edge. I cut it twice because I wanted the scallops to have a patterned edge. Since I used scraps this was cut at 4.5 inches.
For the baby, I had to play around a bit. I finally settled on a cut that was 2.25 inches on the base and layer.
I inked all my edges using my brown ink it up inkpad. (Mary from CardzTV has me hooked)
I will be entering this card inti the following challenges:
More than favors
- use the new arrival cart
Cricut Cardz
- use the card feature of any cart
Thanks for dropping by...stay tuned I'm planning on giving away some blog candy soon!!
- Posted using BlogPress from my iPhone