Good Morning Bloggers,
So as usual, I'm checking out my favorite morning blogs and guess what....I'm a challenge winner!!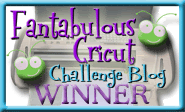 I won the weekly challenge over at the
Fantabulous Cricut Challenge Blog
. I'm so honored. There were many great entries this week. If you've never entered any of their challenges, I suggest you do. They have great prizes and almost always challenge my creativity.
To see my winning entry, click
here
.