Good Afternoon Everyone,
I wanted to share how I made these adorable t-shirts for a friend. I got this idea from Karlee over at her
blog
. I wasn't able to find the sheets that she purchased (and I wasn't going to drive 45 mins to Joann's), so I went over to Wal-Mart and looked for an alternative.
I remember WAYYYY back when we used Heat & Bond back in Home Ec. So I picked up a yard of that. Make sure you buy the one for being used with an iron. They have a sew-on one and I don't sew!
Right next to the Heat & Bond there was a ton of fabric to choose from. I ended up buying 2 yards of blue cotton fabric. Here's a pic of the label.
I don't have any pictures of the process...but I will try my best to explain it to you. First, you will want to cut a piece of fabric about 6 inches long and 12 inches wide. I chose these dimensions because I wanted to make sure there was room on my Cricut mat. Next you will want to cut a piece of the Heat & Bond slightly smaller than the fabric.
Apply the Heat & Bond to the fabric using the directions. Then make your way over to the Cricut.
I applied the fabric to my mat, fabric side down. I cut the letters using Classic Font and the airplane and truck from New Arrivals.
Make sure that you have your "Flip" button on!!!!
I made that mistake the first time. Enter whatever you are going to cut and hit "Cut".
When you are ready to put your images onto the t-shirts. Peel the paper off, arrange as desired, then place your warm iron over each image for about 10 seconds. Here are the finished t-shirts: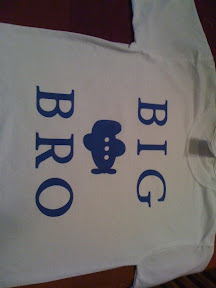 I have some many ideas going for future t-shirts.
Stay Crafty