This week's challenge over at
Amber's Crafts and Stuff
is to Recycle, Reduce, Reuse. My family drinks a lot of Crystal Light. I refuse to buy soda or sugary juices and since they won't drink water this is our happy medium. I buy the tubs that contain the 2 quart mixes. These little containers are great and I can't believe I haven't kept them to use in crafts before. Here are my starting products:
I have a thing for tea, can't you tell?
Pink, pink, and more pink (There's a sneak peek of another recycling project, can you see it?)
I figured I could fill the tub with candy and use it as a gift for someone.
Details:
I cut the tag from Cricut Classic Font (Italic and Italic Shadow feature). It's on page 72. I really REALLY need to start going through my booklets again. I'm missing so many great cuts!
I trimmed the striped paper down to 6.5 inches and wrapped it around the container
I also cut a white strip (2.5 inches) and a pink strip (3 inches) and punched both edges to add a little detail
I used some ribbon from Oriental Trading and then tied a little bow, again just for some added detail
I fastened brads to the label to help it pop
I stamped both the diploma and the sentiment with StayzOn Jet Black ink. (Did I mention I bought a new ink pad) I love how rich and clean the images are with this new ink.
I have to tell you, the diploma stamp is from when I made my graduation announcements back in 2004. I think those announcements were probably my first real paper project. I was really proud of those invitations, here's a couple photos of them.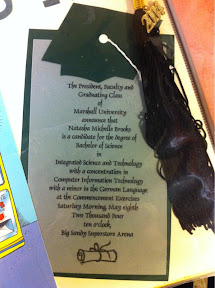 Head on over to
Amber's blog
to check out what the rest of the design team has come up with, Then enter your own project for the challenge.
Stay crafty
- Posted using BlogPress from my iPhone