Good Evening Bloggers,
Checking in from the scrap cave. It's another Friday night where the bf is sleep on the couch and Miss A is doing who knows what up in her room. I started the evening working on the guest book for a friend's wedding, but while the paint was drying I got sidetracked by another project. A while ago, I came across this
tutorial
on Split Coast Stampers. I decided to give it a try. I'm not completely finished, but I wanted to share it with you since I will be out all day tomorrow.
Closed Box
Opened Up
Close-up of Notepad & Pen
A2 Cards in back, 3x3 Notecards in front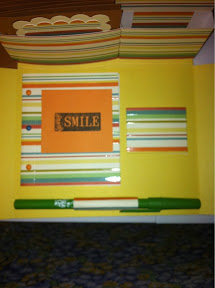 Notepad, Pen, and Postage holder
I used the Mediterranean Cafe DCWV stack for all the papers. The key is to use a really heavy two-sided cardstock for the main box. I wanted to use the striped paper, but it wasn't two-sided. I am really surprised how quickly this came together. I am going to make the following to put inside (and I'll post them when I get them done): 6 A2-sized cards, 6 3x3 notecards, and 6 gift tags.
I'll be showcasing this over at Alex's Blog:
You Had Me at Craft
: I Made it Myself Moday
Thanks for stopping by.
Stay Crafty