Good Evening Bloggers,
I came home this evening to a package from a very gracious blogger friend who cut me a couple of images from the Nifty Fifties cartridge. Miss A is having a bowling party in a few weeks and I wanted to give my try at making a whole themed party.
Here's the invitation: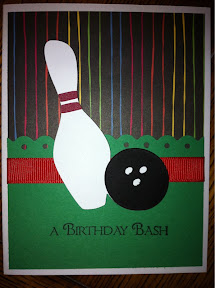 The party is going have laser lights and glowing pins, so I thought the background paper picked up that vibe. I pulled the colors from there too. These are standard A2 size invites. The background mat is 4 inches by 5.25 inches. The colored mats are 3 by 4 and punched with the Threading Water punch. I used a stamp that I got from Michael's.
I haven't finished the treat bags, but here is a preview.
I'm going to add a black circle (bowling ball) with white accents to the spot on the left. And of course more goodies. Right now there are glow bracelets and Laffy Taffy.
I'll post again when I get more done. The party is on the 22nd, so I have a little bit of time for the rest of the items.
Update: here's a layout for the party
Close ups: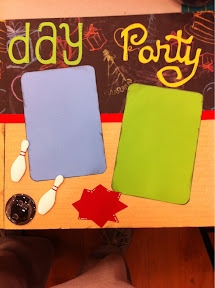 Stay crafty!
I'm entering this into the challenge over at
Decorate to Celebrate - #10 Teens and Tweens
- Posted using BlogPress from my iPhone