Good Evening Bloggers,
A good crafty friend (and inspiration) is tacking her craft room in one of her purges. She's invited everyone to join in and get organized, check it out
here
. I've been meaning to tackle this scrap paper pile for some time now. I sat down and went through every piece. Anything that was too small (less than 2 inches on any side) was thrown into the recycling bin. I then sorted by color family. All of the pattern paper scraps went back into their respected stacks (easy to find them that way). I'm happy to say that I put everything that I kept into an accordion folder for easy grabbing.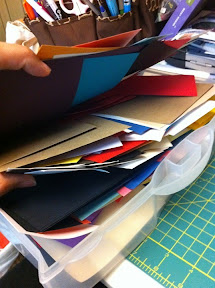 This past weekend, I also ended up buying a new table for the cave. I just didn't have enough space to spread out and felt like I was always under something. I mean when you lose your ATG gun on your craft table, something is wrong right? So I moved some things around and this is what I've come up with: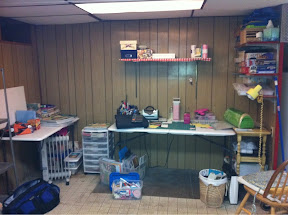 All the way to left is my old table. I'm using this table now for my rotary cutter, larger finished projects, and where all of my magazines/books are. Underneath is my heat source for when winter comes and two bins of yarn, a bin of craft paint, and random other bins. Between the two tables is my rolling 12x12 bin that I got oh so many years ago at Target. LOVE IT. I have my mat stacks on top of this and all my embellishments inside the different drawers. Then there's my new table, still piled with stuff. And finally my Cricut station. Underneath the new table is all of the loose paper I have sorted into Cropper Hopper bins. I'm in the market for new paper storage as this isn't the best way to store my paper, I've found.
Anyway, thanks for stopping by and don't forget to go check out
June's blog
to see what she's been up to in her crafty space.
- Posted using BlogPress from my iPhone