Two quick cards tonight.
Card #1 - A really good friend of mine is in nursing school. She recently was awarded the Top Nursing student in all of West Virginia!!! If that's not reason for a special card, I don't know what is.
I used Locker Talk for the card. Cut at 4.25. The layers were cut at 1.75. I kept this card simple since it is going in the mail. The sentiment is stamped using
Just Wordz
sentiments.
Card #2 - A coworker recently was accepted onto a new contact doing some pretty special work. Unfortunately I can't tell you what that work is, but trust me it's a BIG deal. She will still be with our company just Not in our office. She's moving to DC, and we are all going to miss her bubbliness. I wanted to let her know, even though she didn't work directly with us, we all wish her well.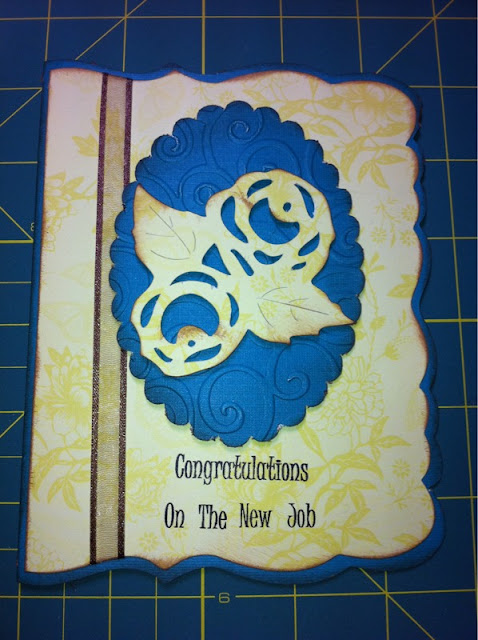 Over the weekend, I found A Child's Year on clearance at my local Walmart. So I picked it up. Everything is on this card is cut from the cartridge. The card base is cut at 6 inches (since it will not be in an envelope), the mat is cut at 5.75 (I recut the card and trimmed the top off). The oval is cut at 4 inches. The rose is cut at 2.5. I inked all the edges with brown ink. The paper is DCWV Mediterranean Cafe. The sentiment is stamped with the same
Just Wordz
set. If you haven't checked them out, do so. They stamp wonderfully and the words line up spaced perfectly.
Thanks for stopping by.
Challenges Entered:
Wee Memories
Stay crafty.
- Posted using BlogPress from my iPhone