This evening I was able to complete a layout. I'm part of a group that challenges each other to do scrappy stuff. I was challenged to create a winter layout using only winter colors, 2 photos, 4 brads, a journaling pocket, a 1 inch title, and either glitter or Stickles. Here's what I came up with: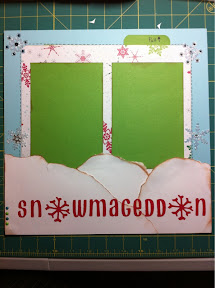 This layout is about the winter snow storms we had through the winter of 09-10. Here in Philadelphia we got a total of 67 inches of snow over the course of 4 storms. Definitely something worthy of scrapping.
Details:
Title was cut at 1 inch (real dial size) using Don Juan Cricut cartridge, the snowflakes were cut at 1.5 inches.
I hand cut the journaling card and used my corner rounder for the "tab"
The pattern paper is cut at 10 x 10 and the top corners have been rounded.
I inked around all the edges with a brown stamp pad (wish I had a blue one, but we all know snow in the city is usually brown or black after a day)
I used the following sketch from PageMaps as inspiration:
Thanks for stopping by and checking it out.
Challenges Entered:
Paper Issues - Snow Day
Stay crafty
- Posted using BlogPress from my iPhone