Good morning and welcome to the Trick or Treat blog hop. You are in for some delightfully fun projects and perhaps some blog candy along the way. If you arrived here from
Crystal's
blog, you are on the right track. If this is your first stop, start back at
Angie's
blog to get the whole line-up. Be sure to comment on all the blogs today for a chance to win some candy!! Here's today's lineup:
Blog Hop Line Up:
(1) Angie: TuttleTime,

http://atuttletime.blogsp

o

t.com/
(2) Sarah: Simply Sarah,

http://simplyshaddock.blo

g

spot.com/
(3) Crystal: Rustic Daisy,

http://rusticdaisy.blogsp

o

t.com/
(4) Natasha: Crafting With Natasha,

http://craftingwithnatash

a

.blogspot.com/

(You are here)
(5) Angela: Creative Craftin,

http://creativecraftin.bl

o

gspot.com/
(6) Monica: Scraps 2 Treasure,

http://scraps2treasure.bl

o

gspot.com/
(7) Elaine: Expressions by Elaine,

http://ExpressionsByElain

e

.blogspot.com/
(8) Mary: Mare Bear Scraps,

http://marebearscraps.blo

g

spot.com/
(9) Wendy:

http://gilbyscraftster.bl

o

gspot.com/
(10) Shar:
http://scrapendipity.blogspot.com/
Now on to the project(s). We were challenged to come up with some fun, quick, and simple Trick-or-Treat projects or cards. I was having a serious case of crafter's block when I sat down to make my project. I had a ton of ideas and then I got sick. :-(
Those who have been following along for a while know how that goes. Anyway I have 3 cards for you today. All of the cards were made with a K&Company Glitter Stack I found on clearance last year. The card bases are a standard A2 size in black. All the cuts were made using the Oct 31st Solutions cartridge for the Cricut. I hope you enjoy!
Happy Halloween.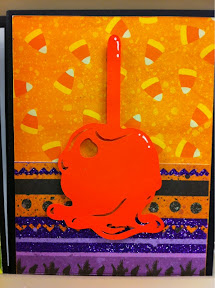 I think I should take photos of my projects at work more often, these are bright and cheery!! Here's a group shot.
Linking these up at:
http://paperissues.blogspot.com/2011/10/31-days-of-halloween.html